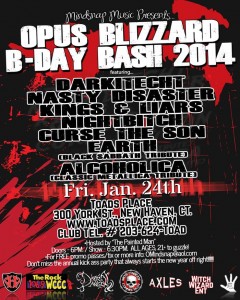 … And I mean "blow" in the best possible, positive, and windswept way.  Remember when I said that one of my guilty pleasures was annoying alliteration?
But I digress.  Friday January 24th is a lineup that Connecticut metal fans will not want to miss: Alcoholica, Earth, Curse the Son, Nightbitch, Kings & Liars, Nasty Disaster, and Darkitecht.  "Looks good besides Nasty Disaster," said Opus.  (Don't worry, he's just busting the balls of his friend and Alcoholica bandmate Ron Zombie.)
So how long has the Blizzard Birthday Bash been going on?  Opus said that he's turning eighty this year but has "a really good plastic surgeon — so I'd say, about 72 years or so.  You can quote me on that."  In all seriousness, the show's been happening for twenty years at least.  "The very first one was when I was 20 or 21 with my first band Violent Industry… so, a long time."
The Blizzard Bash is an all ages event, but be careful if you're over 21 — the liquor really has a way of flowing at this shindig.  Last year I would have slept in my car in the Broadway parking lot if not for a conscientious traveling companion… I was just happy to stumble out of the ladies room to strains of Alcoholica's last song. (Don't ask me what it was, I couldn't tell ya.) This year, they'll be playing Master of Puppets in its entirety, so I'll know it's time to get my ass in gear when I hear "Orion" and "Damage Inc."
Speaking of "Orion,"  being a dad hasn't slowed Opus down.  "It's an amazing eye-opener," he said.  "I was hungry before […] but now I really have to start kicking ass.  I'm lucky to have a supportive family."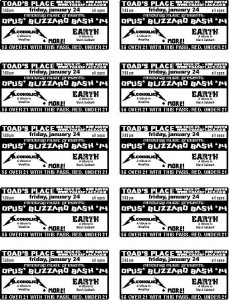 A new baby, a great family, and a killer lineup for his birthday show: things are good in Opusville.  If you want to join the party, pick up a discount pass from any of the bands or print the picture here.  I hope to be there — with a designated driver!
Opus' Annual Blizzard Birthday Bash is January 24th at Toad's Place, 300 York Street, New Haven. 
Advance tickets are $8; admission day of show is $12 without a discount pass or $5 with a pass for guests who are over 21.  (So get a discount pass, dummy.) 
Doors open at 6:30 or 7 depending on who you talk to, and the show starts at 7:30.
Who are you looking forward to seeing?  Leave a comment or contact us!