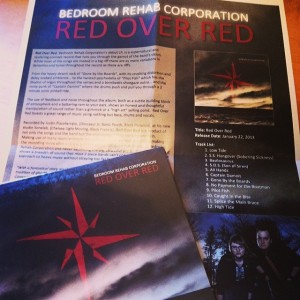 Historically, what's a more metal job than being a sailor on a tall ship?  You're surrounded by thousands of miles of water in all directions with a finite supply of rum, salt pork, and moldy bread to keep you alive.  There's no SOS and no reinforcements.  If that ship goes down, you will drown – and whoever you left on land will surmise this when you haven't returned from work a year or two later.
New London's Bedroom Rehab Corporation communicates this deadly uncertainty through their nautical concept album Red Over Red.  The opening lyrics, in the second track "S.S. Hangover (Sobering Sickness)," quote Samuel Taylor Coleridge's epic poem The Rime of the Ancient Mariner: "Water water everywhere, and not a drop to drink."  "No one gets out alive / Only rats leave the ship / Grow gills and you'll survive / With a bottle in your grip," spits vocalist and bassist Adam Wujtewicz later in that song.  He is joined on this musical voyage only by drummer Meghan Killimade; together, they create a dark and intriguing narrative of which Coleridge would approve.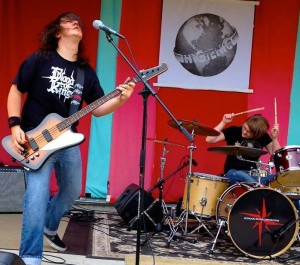 Yes, you read that right — Bedroom Rehab Corporation is "just" a bassist and a drummer.  While Wujtewicz uses pedals to create many varied tones, the main one on this album is big, fuzzy distortion that mimics the sound of 90s grunge guitar.  The arrangements are sparse by necessity, but the songs never feel empty.  In fact, the vocal delivery and bluesy, driving riffs remind me of a stripped-down version of Clutch.  My favorite tracks in addition to "S.S. Hangover" are "Pilot Fish" and the instrumental "All Hands."
By the end of the Red Over Red, hope has returned to the sailors.  The captain is dead (killed by his men?) and the crew is ready to "splice the main brace" and "double the ration."  But then the final track "High Tide" rolls in, and a sonic landscape of buzzes and radio noises makes the listener wonder if anyone got out alive.
Upcoming Bedroom Rehab Corporation Shows
3/29 @ 33 Golden in New London w/ Wolfghost and Problem With Dragons
4/13 @ Cherry Street Station in Wallingford w/ Kings of Nothing, Insano Vision, and VRSA
Find the band on Facebook, Twitter, bandcamp, and the web.