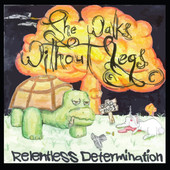 I had the recent opportunity to check out She Walks Without Legs at Axles in North Branford (which by the way is an awesome venue that does Thursday night rock/metal shows every two weeks, go check it out!) and I was pleasantly surprised at how much I enjoyed their set. Yes it's true, not every band in the local scene knocks it out of the park as far as their performance goes, and maybe I came into this show with a general low expectation of what I would see. Maybe I was having kind of a shitty day that day. I don't remember exactly. But I was happy that She Walks Without Legs managed to take me out of my funk. They just might be one of the strongest local metal bands I've seen.
All five band members have a certain light/shade attitude approach to their stage personality. At one moment they're sort of waltzing back and forth, enjoying an upbeat moment, smiling along to some funky or carnival-esque section in their music and then suddenly it's down to serious business, morphing their demeanor to match a seriously heavy and groovy breakdown that comes across as pretty pummeling given the upbeat moment that came before it. I was thoroughly entertained.
I'm also happy to report that their album Relentless Determination is just as enjoyable as their live performance. On the album, however, it's all serious business. This is really solid stuff, instantly accessible thanks to a versatile vocalist and a freight train full of infectious grooves. Comparisons? I guess I can throw in bands like Chimaira, Misery Signals, Shadows Fall and Gojira as reference points. But let's not confuse this as something written completely out of a metal textbook. And what sets these guys apart from comparisons? Because even though these guys are clearly experts at crafting a walloping sequence of grooves and breakdowns, they know when enough is enough, shifting gears towards soaring melodicism and all out shredding thrash. In other words, there's no opportunity to be bored.
All the musicians here clearly know what they're doing. Vocalist Aaron Freeman is probably the biggest highlight for me. He has both an impressive singing voice and a pretty menacing growl and alternates between the two quite frequently. It's pretty refreshing to hear a front man who comes to the metal scene with a full dynamic arsenal. Excellent. I also have to mention drummer Frank Behan. The guy is a beast. The fantastic, almost playful rhythm he showcases in the song, "Within the Ashes" might be one of my favorite moments on this whole thing. In fact, let's just say that song is probably my favorite. "Boobie Trap" and "Vile of Hyde" also bring the fucking goods.
The production on this disc might be in the top 3 as far as quality. The sound is beefy, crisp, with a low-end that swallows your ears and an almost perfect placement of all the instruments. Not much more to say about it except kudos to the band for definitely taking the time to make this sound professional.
To conclude, just do yourselves a favor and check these guys out and buy this album. It will be one of the best local music purchases you'll make, you can count on that.
Upcoming Shows
4/25 w/ Vena Amoris, The Green Invaders, and Redwood at Cherry Street Station in Wallingford
5/24 at the Penalty Box in Colchester, VT
6/21 w/ Shadows Fall, Dead By Wednesday, Hellspeak, Cyperna, Bonded Through Hate, and more at Axles in North Branford
7/12 w/ Vena Amoris, Apostasy, Shallow Ground, The Green Invaders, Insano Vision, and more at Cherry Street Station in Wallingford