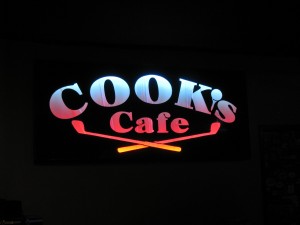 When it's a Posidemic Ntertainment event, you can expect a well-organized, fun, metal good time and that's exactly what we got on March 5 at Cook's Café in Naugatuck, CT.  Jesse James and his wireless microphone kept the show on schedule and enthusiasm high.
Oxblood Forge of Whitman, Massachusetts started the show off right with a Clutch, screaming-vocals rock type of vibe.  They were one of my favorite bands of the night. Next up was Speak Well Of The Dead of Springfield, Massachusetts.  Ben Ready brought relentless vocals throughout the set that reminded me of Superjoint Ritual in their intensity and brutal delivery.
Things got switched around with the punk/metal outfit Left Hand Backwards of Palmer, Massachusetts.  Fronted last night by a Teenage Mutant Ninja Turtle, these guys brought an insane amount of energy and absurdity to the evening that was enjoyed by all.
As Misery Fades of Chester, Massachusetts came out strong with their brand of melodic metal.  These musicians and vocalist exhibited much talent and left me wanting more. Connecticut's very own Kaos Reign closed out the show, sounding tight while not letting the evening die down for a second.  This was their new bassist Bart Graham's debut and he did a mighty fine job on stage.
Massachusetts brought a great show to Connecticut with bands and fans alike supporting the scene.  I'm truly glad I was able to catch last night's show, which proved yet again the metal scene is alive and well!

For more from Alternative Control, find us on Facebook, Twitter, Instagram, Soundcloud, and bandcamp.