It was my maiden voyage to the seminal Brooklyn metal club Saint Vitus, and my GPS told me that I had "arrived."  There was no marquee, no sign… Only a few long-haired dudes in jean jackets standing outside of a bodega, next to an unmarked black door with a cross over it.  Was this the venue?  Or would I just look like a fool trying to open the locked entrance to an apartment building?
I side-eyed the jean jacket dudes, turned the knob… And lo and behold, the door opened to a dimly lit hallway with giant bouncers and a tiny door girl seated at the other end.  This must be Saint Vitus.
I was there to cover Khemmis's much-anticipated (and sold out) East Coast appearance.  The Colorado doom metal band was doing a two-stop weekend jaunt — Friday night in Chicago and Saturday night in Brooklyn.  If I didn't go to this show, I wouldn't have another chance to see them live for the foreseeable future.  So with a pen and a tiny notebook jammed into my fanny pack, I set out alone to see this band that had been living in my CD player for close to a year.
Sanhedrin had just started their set when I got there.  The heavy metal power trio, a relatively new group from Brooklyn, cranked out songs like they'd been on the road together for a decade.  Lead singer and bassist Erica Stoltz held the audience rapt, channeling Bruce Dickinson and Rob Halford with her own sultry spin.  Vocal harmonies with guitarist Jeremy Sosville (of Black Anvil) added more facets to the music, as did Nathan Honor's purposeful drumming.  "Thanks for sticking with us," Stoltz said after one number.  "That was seven minutes and twenty seconds of song right there."  But with such a captivating performance, it was hard for the audience to do anything else.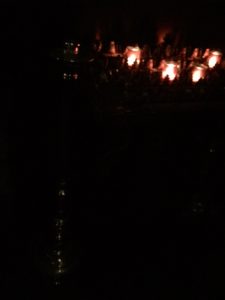 Philadelphia's Crypt Sermon came up next, more from the occult sphere of traditional heavy metal than the Maiden/Motorhead/Priest one.  I wasn't able to get up close for them, but enjoyed songs like "Into the Holy of Holies" and "Pastor's Grave" from the hallway — which appropriately for this particular band, had a Catholic church candle and kneeler setup for decoration.  Local fans of Nightbitch and Vestal Claret should check these guys out.
After what would have been a killer show in itself (albeit a short one), it was time for Khemmis to take the stage.  The band describes themselves as "doomed rock n roll," but that doesn't capture their epic scope.  Khemmis takes listeners on a psychedelic journey through an enchanted otherworld, no mushrooms needed.  Their dual vocals and impassioned guitar harmonies make for a moving, even religious listening experience.  Their first album, Absolution, was the underground metal sleeper hit of 2015, with their 2016 follow-up Hunted gaining even more accolades.
And as good as Khemmis sounds in my car, goddamn did they sound great at Saint Vitus.  To be surrounded by those massive, cascading riffs was like being in a state of really loud meditation.  For those 40 or so minutes, I was outside myself — and I'd venture that the rest of the audience felt the same way.
The band closed with "The Bereaved," the final track off Absolution; as if by design, one of the guitarists broke a string very close to the end of the nine-minute song.  That's all, folks, the journey is over.  Khemmis will go back to Denver; show-goers will trade their jean jackets for the suits, aprons, and uniforms of the work week.  But for awhile there, we were all performing the same magick ritual in the same fairy tale forest, behind an unmarked black door in Brooklyn.
Admission courtesy of Earsplit PR.  All opinions are my own.
For more pictures of the show, visit AltCtrl's Facebook album.
And for more from Alternative Control, find us on Facebook, Twitter, and Instagram.