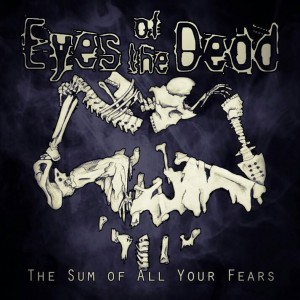 It's strange to review an album from a local band that sounds this produced. I feel that Eyes of the Dead has come away from this fooling people into thinking they're a national act with a big budget. And why shouldn't they? They've been around for over ten years, working fervently in that timespan to make a name for themselves.
And it's worked. There isn't a person in the Connecticut metal scene that hasn't at least heard of the band, and a great percentage of them have seen an EOTD show or two. On a strictly promotional level, they've done one hell of a job getting their name out and keeping it there. This is obviously aided by networking with the right people, but also has to include the sincerity and quality of their music. If they sucked, no one would care that they've been around for over ten years. I wouldn't. But I have to care. I have to care because it's obvious that they've used their time wisely, methodically and patiently fine-tuning what is quite possibly their seminal achievement thus far: The Sum of All Your Fears.
Let's get away from the production quality, though. It's miraculous, but so is the production quality on many shitty records. Putting Febreze on a pile of a dog shit doesn't get rid of the taste; it just makes it go down easier.
If I can stop being gross for a second, I'll comment on what really matters here: the music. To be blunt, it's a fucking beast of a record. It's an album that doesn't need to grow on you; it hits you immediately with everything it has to offer – angry and catchy with a deep fondness for the macabre. I've found myself enjoying it in much the same way as I do with albums like In Flames' Colony or Megadeth's Peace Sells. It's an album for beers at the beach and open trunks blasting riffs in the park. It's music that can start a pit in any public place, and reminds you why metal can be such a good time.
But much like the aforementioned albums, there's a dynamic that calls to a wickeder underbelly beneath the leather jacket tailgate party. The diabolical intentions of death metal have met the thrash metal after-party head on, and the collision has made a serial monster out of the beer-guzzling metalhead drop-out. Add a little melodic death to the formula, and the metalhead not only kills for fun, but finds his actions glorious – anti-heroic even. This theory is based on the relationship I see between the music and lyrics. The tales that Frank Connors tells run a varied gamut from the ghastly to the gory, but murder is the defining glue. The music that the band creates runs a varied gamut as well, between the melodic and atonal, but the defining glue is energy. Murder at a breakneck pace, and killing is ear candy business here.
I was going to make some comparisons with other bands, but I feel metal reviews tend to rely too heavily on name-dropping. If nothing that I said in the previous paragraphs turns you on, then just be confident that you're getting your money's worth with this album. All five members do an excellent job working as a unit, bringing you an extreme metal record that satisfies the craving for anything from head-banging to beer puke to deadly wedding murders. And a cameo appearance by Ryan Bair tops off the keg with just the right kind of cherry – a short blast of Nevermore on top of At the Gates and Death.
Fuck…I said I wouldn't name-drop…
Upcoming Eyes of the Dead Shows
1/30/2015 at Toad's Place in New Haven — Opus's B-Day Blizzard Bash
Find them on the web…
Read our May 2014 interview with Eyes of the Dead here.