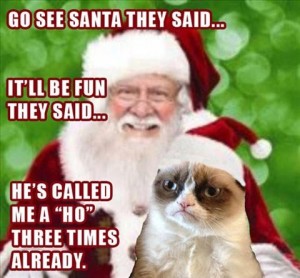 I'll admit it, I hate Christmas shopping. It gives me even more anxiety than hosting parties. I never feel like I'm picking out the perfect gift, spending the correct amount of money, or putting the exact right amount of caring and consideration into whatever the hell I finally end up purchasing for my lovely friends and family members. Then there's the self-imposed pressure to buy something that's artisanal, hipster, hyper-local…. If I just go to Wal-Mart and buy a bunch of Chinese plastic, I'll feel like a bad person. I know this is a total first world problem, but it really stresses me out!
This year is a little better though – I'm doing a lot of my shopping online, so at least I don't have to deal with 20,000 idiots convening on the Ridgeway parking lot. And in the process of researching Connecticut-related Etsy shops (i.e. asking my Facebook friends), I got a lot of great suggestions on where to buy local gifts. The shops with larger inventories will be featured in an upcoming CTBoom article, but here are some of the smaller businesses, Etsy and otherwise, that might just take the guesswork out of your holiday shopping.
Local Services
Give the gift of renewal and relaxation with a certificate to Norwalk's 203 Reiki. In addition to reiki sessions, 203 Reiki also offers space-clearing services and sells custom-made flower essences. We can't lie, this is the side business of our dear friend Cie – but that's good for YOU, because she's giving a special deal for Alternative Control readers. Cie is also offering a holiday discount where you can get three reiki sessions for $150 and a bag of non-perishable food. Help yourself (or someone on your Christmas list) AND help your neighbors!
For the local band members on your list, there's no better gift than the gift of merch. That way, they can save the band fund for recording! Low Brow Print Shop, located in the basement of Danbury's Heirloom Arts Theatre, makes everything from t-shirts to beer cozies to shower mats. I can personally vouch for this place; my band has ordered shirts from them twice and we were very happy with the quality and turnaround time. Email [email protected] to get all the details on their gift certificate deals.
Etsy Shops Based in Connecticut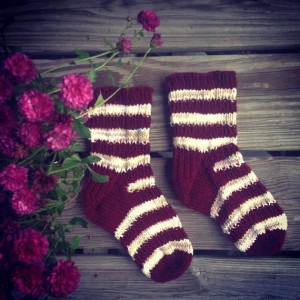 This Connecticut artist carries an unusual combination of goods: knitted socks and painting of cats. Okay, there's a dog painting in there too, and a knitted Christmas stocking. Good place to find something for a mom, aunt, or friend who loves pets – or warm feet!
You'd think this Stamford shop would be all tinctures and ointments, but many of the items for sale are actually handmade journals. Great gifts for artsy teenage cousins.
Located in Cheshire, Poor and Pretty carries "100% natural bath & body products, handmade with love… Vegan & free of anything you wouldn't find in nature." Lots of delicious looking lotions, lip balms, body scrubs, and bath salts.
Actual Stores, Should You Want to Leave Your Couch
For the third year in a row, this Stamford jewelry store has made my holiday shopping list. Maybe that means I need to find more places to buy cool jewelry for my mom – but on the other hand, if it ain't broke, why fix it? If you don't want to drive all the way down to Cove, you can also shop at the online store.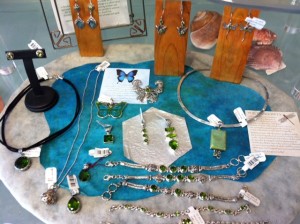 Vegetarian Metalhead suggested putting Penzey's on the list, and I know that The Headbanging Hostess loves this place as well. At $9.95, one of their holiday boxes would make a perfect hostess gift or stocking stuffer for someone who likes to cook. Each one comes with four quarter-cup spice jars, a magnet, a dish towel, and tip cards for how to use the spices.   Nowhere near Norwalk?  Order online.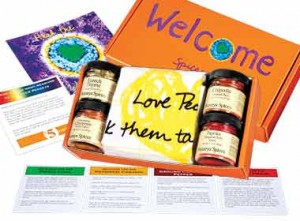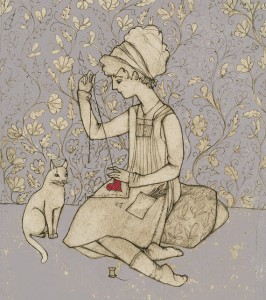 Honorable Mentions (Jessie is Done with Blurbs)

Extreme Martial Arts Fitness of Newtown, CT – Suggested by Lyra drummer Mark B. for having "killer deals."
Polly Sonic of New Haven, CT – Our friend Julie Bess, an authority on all things Connecticut, suggested this  illustrator who makes beautiful handmade prints.
Ring Me Up Too of Riverside, CA – Okay, this one's not in Connecticut, but our columnist Pixie has ordered jewelry from them several times.  She says, "I love them. These guys do amazing custom work."
What businesses would you add to this list?  Where are your favorite places to do your holiday shopping?