Sitting at Olde Mother Brewing in Frederick, Maryland with Steve Janiak, I couldn't help but be impressed with his heavy metal resume: as far as I knew at that moment, Steve was the frontman and guitarist of Devil to Pay (Ripple Music) as well as playing guitar and singing backup in Apostle of Solitude (Cruz Del Sur).  Both bands were playing Maryland Doom Fest that weekend, and I had caught Steve on his "day off" in between the shows.   "Are you, like, the king of Indianapolis metal or something?" I asked him.
"I don't think so," he said.  "There's plenty of other metal dudes in the area who have probably done more.  I just lucked out to be in two bands of this genre.  I started DTP with my buds in 2002 and Apostle started in 2004.  We always played shows with them and were really tight with fans of their music, and in 2011 they parted ways with their guitar player and so I filled that spot.  I wasn't always in Apostle.  […]  Chuck Brown (gtr/vox, AOS) had been in The Gates of Slumber as one of their original drummers and they did an album and then they parted ways with him.  He had started AOS as an outlet for some of the songs that he had written, so he already had a band in mind when that fell apart.  That actually started with Corey (drums, AOS)."
"I claim that I was the impetus for how he and Corey actually met, but they might have met on the social media site of the day — IndianapolisMusic.net, which had a message board.  My memory is just too foggy to remember if I actually introduced them or not.  So yeah, we used to play a lot of shows together, so it made a natural fit.  I was able to bring more to the table because of the vocal part because I already was the singer of Devil To Pay.  I could harmonize with him, and that developed more fully on the last album.  I jokingly say that we're trying to be the Everly Brothers of doom metal."
Later in the interview, I learned that Steve had recently joined The Gates of Slumber as well, on bass.  That band is preparing for a European festival performance early next year.  "Playing festivals (in Europe) is different to play 900-1200 people is a little bit nerve wracking because you're not used to it."
He did like the hospitality in Europe, though.  "They're like, okay we're gonna give you food and drink tickets and a place to stay.  A hostel or a hotel room  or someone will put you up," Steve said.  "In America, they're like, here's six drink tickets and see ya…."
So with three bands playing festivals all over the world, Steve may in fact be the king of Indianapolis metal — or at least the busiest guy in their stoner/doom scene.  In between the bands' endeavors, Steve has found flexibly income in the so-called gig economy.
"I drive for Uber and I try to get people to tell me their worst Uber Stories.  I get to hear the scariest or most bizarre things people have experienced doing that, and I'd like to do a blog with it at some point.  I just have all these stories rolling around in my noggin… Some are terrifying, some are just gross or weird…  But I do that, I edit video for my bands…"
It's not always easy to keep a lineup together while band members juggle various real-world responsibilities.  In regard to that age old dilemma, Steve said,
"Best answer that I'd have for that is lower your expectations.  A lot of times, when people start a band or join a band, they have an idea of the success they would like to achieve, whether that's underground or big-time or whatever, but everyone debates about how much time and effort to put into the band.  At some point, we had that meeting where…  Are we gonna push really hard and do this really hard, or are we gonna have to break up or find new guys because not everyone can do the same level of commitment?  […]  I personally wanted to keep the band together and keep writing music, because we started to have fun — if it got to the point where we were not having fun, it would be pointless.  Especially if you're not getting paid!"
"So that's been the whole thing all along is, we're gonna have fun and write music that we're proud of.  That doesn't mean that it's always easy or fun to be in a band for seventeen years.  There's challenges to being in the same space as anybody for that length of time, so we've had our ins and outs and stuff.  But when it comes down to it, it's rewarding in that sense that we have been around that long.  I found out today from JJ's article that we were the most SHoD band that played last night.  We don't know what the record is, but we played five of the SHoDs — five of them out of the thirteen or fourteen I guess."
Editor's Note: Steve is referring to the Stoner Hands of Doom Festival, which I learned from JJ's article ran from 1999-2013 in various locations around the country — with "several pivotal years" in Frederick.  In fact, the first night of Doom Fest was billed as an homage to SHoD.  #themoreyouknow  
Beyond the music, I couldn't help but ask about all the cat pictures Steve posts on Facebook.  He told me at length about the feral cats he and his wife Barbie Jo care for in their neighborhood.  "We belong to a community cat program," he said, "and basically we have traps that belong to the program, and we will try to feed these cats and trap them.  They do TNR, which is trap/neuter/return.  Then they trim their ear to show they have a caregiver.  We're caregivers to six cats and then we feed another five to eight cats that live in the area."
Steve and Barbie Jo have made winter shelters for the cats out of plastic totes and insulation, and even cut a door in their shed and put an old cat tower in there for the feral kitties to play on.  It was all fun and games until a possum decided to take up residence….  But that's nothing compared to the raccoon battles that take place in their backyard over the cat food.  All this outdoor action is in addition to the cats and birds that live inside!  Between band-related traveling and their own personal adventures, the Janiaks must have a very well-loved and responsible pet sitter.
Steve probably could have told me lots more about the cats, traveling adventures, and sweepstakes wins — he and his wife are accomplished "sweepers," counting a Disney vacation for four and a brand new Chevy truck among their recent successes.  But the bands were starting down the street, so we finished our hipster IPAs and made our way to Cafe 611.
To hear the music this Uber-driving, sweepstakes-slaying cat lover is a part of, check out Devil To Pay, Apostle of Solitude, and The Gates of Slumber.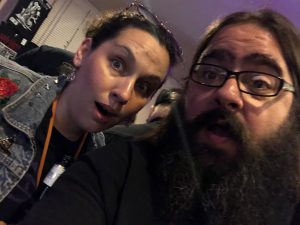 And for more from Alternative Control, find us on Facebook, Twitter, Instagram, Soundcloud, and bandcamp.