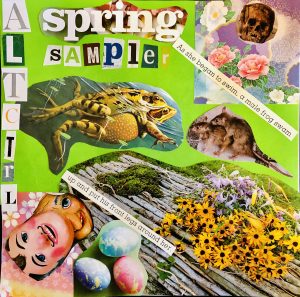 Did you enjoy Volume Doom?  Then you're in luck, because Alternative Control is going to have new music coming at you every…. Well, we're not sure about the intervals yet, but check out the AltCtrl Spring Sampler!
After seeing the overwhelming positive response to Volume Doom on social media and IRL, and observing how our friends at FuzzHeavy have been building a community through bandcamp samplers, the blog has decided to put together compilations more often than every five years.  The comps will continue to feature bands that have been reviewed on the blog, as well as bands whose members have contributed guest columns.  What does this mean for you, the listener?  No garbage tracks.
While Vol Doom focused on one genre and went back a year or two in the blog's history, this new sampler spotlights groups that have graced the blog's pages in just the past few months.  There are a variety of genres represented, from black metal to horror punk, arranged democratically in alphabetical order by band name…. Read on for the backstory behind each track and download for name your price!
1. Bethlehem — "Niemals mehr leben"
Holy crap, how did we even get this band on here?  Okay, Prophecy Productions helped out with that one… This German outfit is known for founding the depressive black metal genre.  They've been putting out music since 1991 and recently added singer Yvonne "Onielar" Wilczynska to the lineup.  Bethlehem's upcoming album Lebe Dich Leer (which translates to "empty yourself by living") will be the first to feature her gut-wrenching vocals.  The blog highlighted Bethlehem in this Listening Lately column and they also made a cameo appearance in Basilysk's edition of Show Me Your Patches!
2. Blind Scryer — "Delta V"
In Six Degrees of Dewar PR, I came across this Kentucky metal band editing their press release or something.  I usually press play on the Haulix while I'm doing these jobs, and was like, "Whoa, this band is awesome."  Offering a mix of traditional heavy metal and stoner metal influences, plus artwork by David Paul Seymour on their self-titled debut, this band is here to take names.  Hopefully we'll see them up north in the future!
3.  Dread These Days — "Eldfell"
Dread These Days are badass semi-newcomers to the Connecticut scene, with a breakdown-heavy, dual vocal metallic hardcore sound that belies the thoughtfulness of their message.  Lead vocalist Jeff Apuzzo wrote a touching homage to the mighty battle vest earlier this year, which you can read here.
4. Gramma Vedetta — "Address Unknown"
Our friends from across the pond, London's Gramma Vedetta open "Address Unknown" with some bass-driven grooves, evolving into some emotional stoner rock n roll.  Christopher Baldwin wrote of this particular song in his review of their debut album Proof of Concept,
"I get the Sabbath vision of a mystic, stoner Satanist in a blue-collar suit in the midst of a blissful, peyote trip into hell. This is all purple cauldrons of fire and a cold sun on a black desert. But I don't see Ozzy out there, flashing his tattooed OZZY hand in devil horns. I see…whatever 'Dan on Vocals' looks like…a pizza delivery guy holding a lava lamp filled with blood. That's the key difference here. This band manages to remain their own brand."
5.  Laster — "Haat & Bonhomie"
Prophecy Productions was instrumental in getting this crazy Dutch band on the sampler — "Haat & bonhomie" is off their new album Het Wassen Oog, which was released yesterday.  Laster, who we featured in a Listening Lately column in March, describe themselves as "obscure dance music"; IDK if I'd dance to it, but this track switches abruptly between jazzy, bass-heavy interludes and jarring blast beat assaults.  From what I've seen of Prophecy, that label finds bands that are pushing the creative envelope — and Laster is a perfect example.
6.  Necrosexual — "Trust No One"
This Philly comedic metal band is serious AF about being GRIM and KVLT.  Franzia-swilling frontman "The Necrosexual" has been a friend to Alternative Control for some time now — he wrote our very first Nerd Talk column and has recently begun contributing reviews, like this one of Yuckmouf.  After Necrosexual's performance at Cherry Street last year, our Listening Lately section got necro with Grim 1; you can also pre-order Necrosexual's upcoming album The Gory Hole Overture in F# here.
7.  Owl Maker — "Owl City"
COUGH This is my band COUGH.  We're pretty cool.  "Owl City" is the B side of our recent EP/single Sky Road.  The title started off as a joke; our first-ever review was really terrible, and to add insult to injury the writer mistakenly called us "Owl City."  Uhhh, thanks but no thanks, bruh….  I wanted to write a Thin Lizzy-esque song with that as a title and it evolved into an allegory about anthropomorphic owls who fight back against humans who destroy their forest.  The lyrics were inspired by the Pueblo Rebellion of 1680, where indigenous people successfully (albeit temporarily) drove out Spanish colonizers and missionaries in what is now New Mexico.  Fair warning, you have to listen for almost two minutes to get to the Thin Lizzy parts….
8.  The Scabby Ghouls — "Knife Fight"
Hailing from Omaha, Nebraska, horror punks The Scabby Ghouls premiered their self titled debut album on the blog last month.  The closing track, "Knife Fight," opens with driving bass and some ripping guitar work, evolving into some classic Misfits-style punk that will have heads banging.  (Do punks do that?  Would "bodies slam-dancing" be more appropriate??)  As the editor and curator of this operation, I can't have favorites…. But if I did….  KILL ON SIGHT, IT'S A KNIFE FIGHT!
So that's what we've got for you on this fine April morning, friends.  Listen, download, and go seek out these bands!
Thank you SO MUCH to the bands and labels for contributing their music to this compilation.  All proceeds will go towards the blog's hosting/maintenance costs in an effort to make running this website a self-funding hobby.  In case anyone cares, the collage artwork was made from origami paper, National Geographic, a discarded school library book, and the Stop & Shop coupon magazine.  For more from Alternative Control, find us on Facebook, Twitter, Instagram, Soundcloud, and bandcamp.