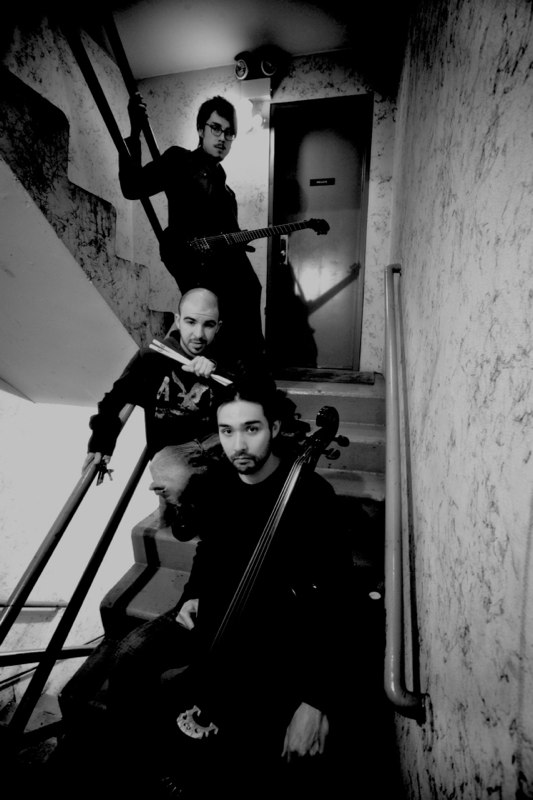 About six months ago, Jimmy Junk Bird and the Stiffs played an all-day fest at The Outer Space, where we met a groovy band called Quantum Funk.  We got to talking with QF's drummer Todd Ellison, which eventually lead to booking a show with his other band, The Brain Room — and that show is now less than two weeks away!  The Brain Room will be at Seaside Tavern in Stamford on Saturday, 2/13, along with Jimmy Junk Bird and Matt & the Marauders.  To help get folks familiar with this mysterious New Haven band, I talked with Todd and singer/guitarist John Cahill about the The Brain Room's history and their unique music.
The Brain Room has been around since 2009.  Tell me about how the band got together.
Todd: When I met John, he actually wasn't a singer at all. He is an extremely funky, nasty 6-string bass player, and we were in an instrumental progressive rock/funk/metal band, way different than The Brain Room. That project fell apart for several reasons, and on the side John was jamming with another drummer and a cello player, the extremely suave and sexy Noah Capurso. The drummer left, and we got together, started playing, and the rest is history! Through exploring many different genres, and devoting ourselves toward writing catchy, yet tastefully complex tunes, we are where we are today.
John: I was originally a bass player.  […]  When I arrived in the US, I started playing bass for this progressive metal band and Todd was the drummer. Wanting a side project to continue working on my own material, I put feelers out at Yale for a cellist and found Noah (living in the same apartment building at the time). The band, originally called Drawing Clocks and sounding more Radiohead-esque, had a couple of line ups before we recruited Todd in 2009, taking our sound to a rockier place. We felt the band deserved a new name at that time.
How has The Brain Room's music grown or changed in the past six or seven years?
John: We are constantly evolving, trying to strike a balance between technicality and feel, prog and pop. When Todd joined, we got heavier. More recently we have been getting even more groove-oriented. We have always had diversity in our sound (a fun and a dark side) -keeps things interesting.
Todd: […] (At first) we were very focused on writing classically-influenced songs in odd time signatures. When I kick back and listen to those songs, a lot of them still evoke some pretty powerful feelings in me, but for the most part, they were lacking a certain spark, and we wanted to go in the direction of delivering music that is more powerful, and more from the heart. I wouldn't necessarily say we abandoned all technicality within our music, but we wanted to add a little bit more heart and feel to it, and I think we have been successful in achieving a balance of the two in our evolution. And what you get is what you hear from us today!
One unique aspect of your band is an electric cello in the lineup.  John, when you first started putting together The Brain Room, were you intent on finding a cellist or other string player?  Or did that just kinda happen? 
John: The cello is my favorite instrument — yes, it was intentional. Noah was one of a rare breed of cellists at the time willing to experiment outside of classical music. Not many cellists were doing the electric/effects thing at the time. I think I had probably heard of electric violinists using effects back then, but was never drawn to the instrument.
Todd: I think it's safe to say that a lot of people become intrigued once they feast their eyes on a such a beautiful and (uncommon) instrument like the cello. As soon as people see it, there is a notion implied that we are doing something a bit different from a majority of the bands out there. That being said, I certainly wouldn't call it a gimmick either. If you see any of our shows, you can't help but notice just how great of a player Noah is, and how much he contributes to the music.
Your recordings have a lot of musical layers to them, but you're a three-piece band.  How do you represent all those layers in your live show?
Todd: […] We play with a backing track that includes all the beautiful, cerebral effects you hear in the recordings. I've been playing drums for 14 years and have been in a lot of bands in my day, and let me tell you, I have never been a part of something so sophisticated! It was a challenge at first and certainly took some getting used to, but overall I have certainly become a better, more accurate drummer because of it.
John: We are striving for an epic sound, so it's tough. For now, I have a rule that band members should not outnumber audience members — so to play it safe we have remained a three-piece. Until we can afford to hire an orchestra, we use a combination of layering sounds on the keys, oversized pedal boards, midi based guitar synthesis/effects, and (on some songs) backing tracks. We can pull the songs off without, but this tech means our audience gets the best possible sound at even the smallest venue. Our rig is massive though.
Would you consider taking on more members if the opportunity presented itself?
Todd: Yes, I think we absolutely would. But it would definitely have to be the right type of person, who is driven and motivated, and who would understand what we are trying to achieve with our sound.
Your site lists an album called Science coming out in 2015.  Is that what's on your Soundcloud now?  Where can people get their hands on physical or digital copies of your music?
Todd: Well, I'm actually glad you asked this question. To help clear the air, first off I believe the album name is going to be changed, and John can confirm exactly what it is. What is currently on our Sound Cloud are old demos, and though some of those songs will be on the album, those are not the versions that will be on our album. The main reason the album is taking longer than anticipated is because we want it to sound as good as it can possibly be — good to the point where we can look at the quality of our old recordings and laugh at the "good ole' days."
We are still giving away old copies of our demos at our shows, and we also have our songs available for listening on Facebook, Reverb Nation, and Band Camp.
John: The album is still in the works — it has been indulgently renamed to Variations (On a Theme). "Science" became a single and is currently in our live set. Physical copies of the album will be available via our website and digital download via the usual channels in the spring. We usually hand out demos of our older material at gigs.
Whatever it is on Soundcloud, the recordings sound beautiful.  Where did you record?  Tell me a little about the recording process.
John: Thanks — you're being kind. These are old basement recordings made on a laptop in Garageband. We usually create pretty full demos whilst we write, so recording just involves tightening up what we have. We have now built our own commercial recording studio (available for recording and production projects), so the new album will be more refined.
Todd: For a while, we were renting a cool little studio at the Bridgeport Innovations Center, a cool industrial complex-turned-artist lofts. We did some of the recordings there, and some of them at John's house. We now have our own studio that John and I built (with the help of some contractors who actually knew what they were doing!) And the recording process starts with drums playing with scratch tracks, with a click-track to maintain the rhythm throughout the song. Everything else gets layered on top from there, and though I'd like to say "we" do it all ourselves, all the credit goes to John. He mixes everything and adds all the bells and whistles you here.
You guys describe yourselves as having a transatlantic sound.  What are some of the band's biggest influences?  And what aspects of your music come from the other side of the pond?
John: Radiohead is an influence and I love Bjork and Sigur Ros.  Other than that I draw inspiration from all over the place… I grew up on Brit Pop/Rock and started playing in bands around the same time as Muse and Coldplay were getting big; I would say I have influences in common with those guys rather than considering them an influence per se (e.g. Jeff Buckley).
Todd: Yes — John is from England, Noah and I are from the States.  […]  I love a lot of different kinds of music…. I have been pretty big on progressive rock my whole life (Dream Theater, Between the Buried and me, Porcupine Tree) as well as a lot of metal and punk.   Most recently, I've been very influenced by gospel drummers — my favorite being Tony Royster Jr., who is currently the drummer for Jay-Z. All of those elements are transposed to my drumming style, and I try to bring a unique, choppy kind of heaviness to the band that I'm not sure would exist if I weren't in it. So combine that with the soft-spoken, eloquent, and artistic lead singer from England whose roots are stemmed from the likes of "OK Computer," and I'd like to think you have a pretty unique sound.
Does The Brain Room play out live very often?
John: No.
Todd: Honestly, not as often as I would personally like. We have been in the recording process for quite some time now, and we are trying to get that out, and practicing and performing live shows can set that back a bit. So we are trying to finish the album, but also not remain completely irrelevant in the live local scene. Once our album is finished, we will have a very solid product to promote — and that's when you will be seeing us playing out a lot more often.
Who are some of your favorite Connecticut bands to share the stage with?
Todd: For me personally, I kept in contact with Jimmy Junk Bird because I loved you guys! I speak honestly when I say I have never seen a band quite like it, and I am very much looking forward to doing it again. I'm also very fond of sharing the stage with The Shape, Gates of Ivory, Grawlix, and Back From Earth (which is a band I have recently joined, as their drummer recently left the band).
John: Whoever will have us — we've fit in between acts from folk to metal.
What happened to Quantum Funk??  And are the Brain Room and Quantum Funk related in any way besides happening to share a drummer?
Todd: Quantum Funk is a band I shared with two guys who are some of the nicest, coolest, and grooviest guys I know. Jake (bass) and Chris (guitar) are still very good friends of mine. Chris is totally insane when it comes to dedicating himself to music! He is currently in school full time for it, and he plays roughly 8-10 hours a day! His busy schedule just did not allow for him to continue to commit to a band full time. I think he has about 3-4 semesters remaining, and when he gets out, who knows! Maybe we will start playing again, only time will tell. It's important to note that everything was left on great terms, and it was nothing more than scheduling conflicts that led to the decision to disband the project.
And no, QF is not related to The Brain Room in any way, shape, or form. The Brain Room is obviously extremely important to me, I have been in the project for 6 years. I aspire to be a career musician, and I feel like being a part of multiple projects, while making new friends and connections in the process, is integral if you want to succeed in this extremely difficult industry. The only requirement I do have when I join other projects is that they be completely different from The Brain Room, because it helps keep everything fresh, and allows me to grow as a musician!
That's a wrap, fair readers.  Let's give Todd, John, and Noah a warm welcome at Seaside Tavern on Saturday, February 13th! 

891 Cove Rd, Stamford, CT    
Narragansett Beer Specials and Homemade Cookies while they last!
Facebook event here.
The Brain Room photo by Ernie Wright.