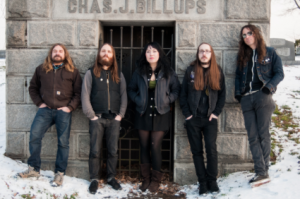 I thought I listened to doom… And then I heard Soma, an upcoming release from Virginia band Windhand.  From the opening notes of the first track, "Orchard," I was taken in.  The downtuned sludge was too much for my car's one broken speaker, but I had to crank it anyways.
The album is united by melodic and rhythmic themes that carry through most of the songs, occasionally punctuated by ripping, psychedelic guitar solos.  (Like in the second track, "Woodbine" – badass.)  Dorthia Cotrell's voice floats in the background of the mix, haunting and ethereal.  "Evergreen" is the biggest departure from the rest of the material, an acoustic dirge that brings Cotrell's vocals to the forefront.
Be warned, this album is LONG.  The six songs take up almost all the space on a blank CD and the final song, "Boleskine," is over half an hour.  Serious doom enthusiasts will revel in the journey, but casual listeners might have to break it into smaller chunks.
Soma will be released in America on September 17th and the band is beginning a national tour this week.  Get your shit together and you can see them in Brooklyn this Friday!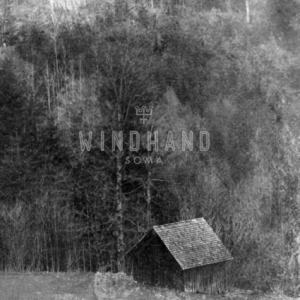 Windhand on Facebook
Upcoming Tour Dates
Sep 05 Baltimore MD @ The Sidebar Tavern w/ Ilsa
Sep 06 Brooklyn NY @ St Vitus
Sep 07 Philadelphia PA @ The Golden Tea House w/ Ilsa
Sep 08 Pittsburgh PA @ Belvedere's
Sep 09 Columbus OH @ The Shrunken Head
Sep 10 Indianapolis IN @ The Melody Inn
Sep 11 Chicago IL @ The Cobra Lounge w/Mount Salem
Sep 12 Milwaukee WI @ The Cactus Club
Sep 14 Minot ND @ Wedding Reception
Sep 15 Billings MT @ Shooter's
Sep 16 Missoula MT @ Ole Beck VFW Post 209
Sep 17 Seattle WA @ The Highline w/ Bell Witch
Sep 18 Portland OR @ Ash St Saloon w/ Bell Witch
Sep 19 Chico CA @ Monstros Pizza w/ Amarok
Sep 20 San Francisco CA @ The Hemlock
Sep 21 Oakland CA @ The Stork Club
Sep 22 Los Angeles CA @ The Complex
Sep 23 Salt Lake City UT @ Burt's Tiki Lounge
Sep 24 Denver CO @ 3 Kings Tavern
Sep 25 Lincoln NE @ The Bourbon Theatre w/ Call of the Void
Sep 26 Kansas City MO @ The Record Bar
Sep 27 Dallas TX @ The Doublewide w/Solomon and Pinkish Black
Sep 28 Forth Worth TX @ The Grotto w/Solomon and Pinkish Black
Sep 29 Austin TX @ The Mohawk (inside)
Sep 30 Little Rock AR @ The White Water Tavern
Oct 01 Nashville TN @ The Owl Farm
Oct 02 Johnson City TN @ The Hideaway w/ Generation of Vipers
Oct 03 Richmond @ Strange Matter
Advance copy of Soma courtesy of Relapse Records and Enabler PR.