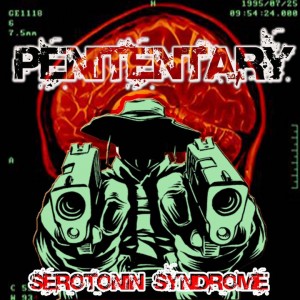 Over a year ago, I was asked to review a new release called Heretic's Fork by Murder Castle. Now if you hadn't heard, we at Alternative Control adhere to a strict code of conduct that avoids conflicts of interest. I was tasked with that journalistic endeavor by our esteemed editor because I had no prior interaction with the primary creative force behind the project, guitarist/vocalist/songwriter Bill Klopfer (pronounced 'claw-fur'). In the writing of the aforementioned article, I learned a lot about some of our nation's darkest history, and have since befriended Klopfer and his wife.
I'm currently enlisted to review another Klopfer offering (dare I call it a 'Klopfering?'), this time with his pet project Penitentary. Before you ask, as so many have, the incorrect spelling is a deliberate effort to avoid copyright issues, and it's aesthetically pleasing to Bill. I listened to Serotonin Syndrome, and I liked it, and I'll tell you all about it.
But in that time, Klopfer also almost entirely self-produced an 11-band compilation album. This Klopfering, called CT Metal 1, boasts as stacked a lineup as any of the recent compilations to emerge from Connecticut's thriving local metal scene, a glaring cross-section of our burgeoning talent base. If AltCtrl and Kali Ma and Bill Klopfer can put out three completely different compilations, Connecticut's doing something right! But beyond even that, Klopfer has fashioned a promotions device that will help those of us who want to broaden our influence and share our music with as many people as possible. I hesitate to call it a record label, but Skumbagh Records looks to provide innumerable services for devoted bands that could use that little extra push.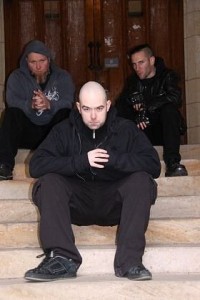 I'm going to get into all of this because it's important that a medium like Alternative Control acknowledges efforts to build and bolster The Scene. But we're going to start with the intended review: Serotonin Syndrome is a success. Though portrayed as a thrash project, Penitentary explores many varied influences while retaining Klopfer's very distinct songwriting style. If you played the title track and told me it was Murder Castle's newest, I'd think that Klopfer had simply chosen an entirely new direction for one of his projects; it's very much separate, but markedly 'his.' The song "Sex is Murder" even fits with Murder Castle conceptually, a shocking glimpse into the mind of a killer. Bill has concerns (legitimate ones) that the casual listener would immediately react to those specific lyrics and condemn the band for violently misogynistic messages. But like Heretic's Fork, this isn't a representation of his own innermost thoughts; rather, it's an exploration into compelling characters from a much darker and twisted walk of life. That said, even I was taken slightly aback at the devoted furor that was invoked in that particular song.
The diversity continues as the tune "PTSD" seems to be almost punk-inspired. It recalls Sacred Reich, in my opinion (their song "Independent" specifically). The song "Russian Roulette" embodies old-school straight-up thrash, and is most like what I envisioned when I was told that Penitentary was Bill's thrash band.
Then you get to the fifth track, a gem called "Withdrawal." It's a crawling, creeping lament, and one can only assume that Klopfer has endured the tortures of addiction. Of course, to do so is to also incriminate him as the voice narrating "Sex is Murder"… what he achieves is a woeful and wrenching representation of the emotional and physical detriment of addiction. He alternately cries for a savior then sardonically claims to be their new disciple. It's my favorite off the album, and a stirring but subtle composition.
Following suit, the closing number "Forever Deceased" employs electronic drums and is practically an industrial metal song. Bill claims to have gotten bored during recording sessions and written it, suggesting a separation from the rest of the album's material. But if this song was released in 1994, it would've been released on The Crow soundtrack and he'd be living off of it. Not to suggest that it's derivative; if anything, I admire the willingness to branch out and explore new territory in a project that can go wherever you'd like it to go. I'd strongly suggest Serotonin Syndrome to any fan of metal as a whole, and you'll be surprised with how much ground Klopfer covers in one album.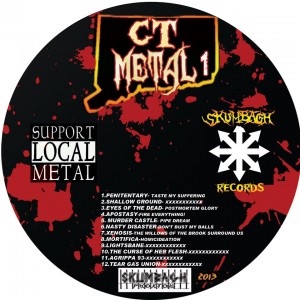 Speaking of covering much ground in the span of one album, CT Metal 1 is an effort that spotlights several of Connecticut's foremost purveyors of power, bands like Lightsbane, Xenosis, Eyes of the Dead, and Mortifica that have all enjoyed their time as the subjects of Alternative Control articles, as well as mainstays like Nasty Disaster and Apostasy that hold their own esteemed places within CT's elite. With clear, simple artwork and legible tracklisting, there should be no confusion for the inebriated audience member who stuffs this one into their cargo pocket when they're slid a disc at some show at Cherry St. One arguably awesome feature, the disc rests comfortably in a paper slip that has the bands and songs printed on it! Genius, considering the bulkiness and awkwardness of cramming a jewel case into the pocket of your jeans if you're not wearing camouflage cargo shorts at the show in question. Klopfer knocked this one out of the park, and as earlier attested to, the guy virtually produced the entire effort himself, got each track mastered in-house at UP Studios in Seymour, and created the artwork on his own.
And as if the guy could ever be finished creating, he has broken ground with Skumbagh Records, which will eventually serve as a representative for bands that need a boost in any of countless areas. Says Bill: "We are a middle man. I find vendors and online distribution rings and set up sales and take the lead on it. Songs are posted on the web for download… Commission is based upon online streams, advertisement, song downloads, CD sales, etc. We also… get the CDs sold in rare CD stores and outlets. Lots of connections." The promotion doesn't stop there! "We do album design and print CDs through vendors, and I have a recording studio under my chain as well. We're kind of a do-it-all thing… Some bands just want to play music and not worry about the other aspects of being in a band. I want to help them out so they can just focus on the music." I couldn't have said it better myself, if you're looking for anything from artwork to footwork, Skumbagh Records will come to be all you need, for a nominal fee! Visit and like them on Facebook!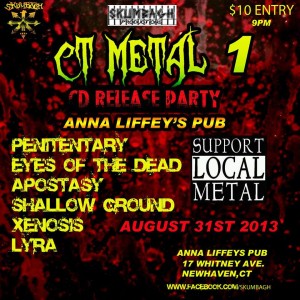 There are about to be a million links below this closing statement, all worthwhile! We covered a fraction of what Bill's up to, he's still got Murder Castle, and a new Penitentary disc is on the way. Your next chance to see Penitentary doubles as your first chance to support CT Metal 1, at the release party this Saturday at Anna Liffey's in New Haven! Check out that Facebook event, as well as everything else right here!