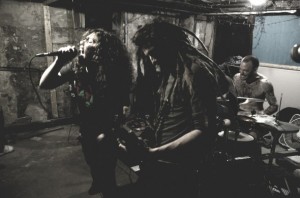 Earlier this week, Alternative Control spoke with drummer Josh Cohen from Cop Problem, a Philly punk band who will be tearing up the Heirloom Arts Theatre on December 6.  Josh is joined by Randon Martin on guitar, George Grimaldi on bass, and his sister Deb Cohen on vocals.  The band is releasing their second EP, Buried Beneath White Noise, on October 24; an advance listen tells "us" that this is the kind of punk our readers could get into.
Opening track "Bear Witness" brings the d-beat noise right from the beginning.  But about a minute and a half in, the song breaks into a hard, fist-in-the air groove – I'd say a calm in the storm, but it's not calm.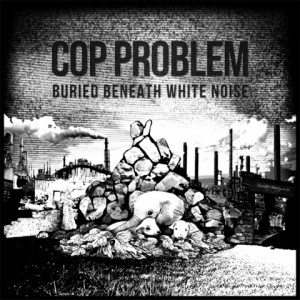 Second track "From Within" starts off softly but doesn't stay that way for long.  This song is a great example of the band's ability to draw from different genres, as is the next song "Who Really Pays?"  Both go along in punk/d-beat style and then ALL OF A SUDDEN you're listening to a brutal blast beat that would be at home in any metal song – then back to punk.  Josh talked about how the band members have many diverse musical influences; he and Deb grew up listening to everything from Napalm Death to their mother's Steely Dan albums, while Randon enjoys Leonard Cohen tunes and George moonlights as a singer in hardcore bands.
Closing track "American Spring" bookends well with "Bear Witness." (Listen on Pitchfork!) Both songs start off pounding ahead at full speed, then evolve into these slower, really catchy parts.  Cop Problem eschewed the use of a metronome while recording, but listeners wouldn't know.  Still, the band felt this method gave Buried Beneath White Noise a "more of a live, aggressive feel" than previous releases.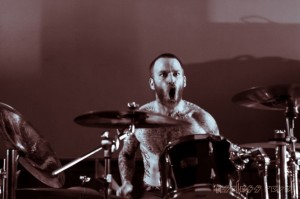 Deb's vocals throughout the EP are guttural but mostly decipherable, with lyrics that take on political issues such as unrest in the Middle East and at home.  Activism is important to Cop Problem – "I wouldn't say we have an agenda," Josh said, "but we use Cop Problem as a forum to talk about issues we care about… To discuss ideas and have an emotional release to share with people… We bring a distro with free info to all our shows – I feel that punk is a space where you share ideas."  Each of the members have different causes that are close to their hearts, among them animal rights, vegetarianism/veganism, and the Straight Edge lifestyle.  Josh didn't specify who was vegan and who was Straight Edge, and I didn't ask.
But speaking of sharing, I did have to ask what "d-beat" was — I know, I'm a poser… Josh explained that it's a drum beat which some kinds of punk are based around — "a polyrhythmic underlying kickdrum sound" that creates more sonic unrest than the regular boom-cha two-step beat.  Like any drummer worth his weight in no-kill shelter brochures, Josh doesn't pigeonhole himself exclusively to this rhythm, but it factors heavily into Cop Problem's sound.
If I had to sum up Cop Problem in an easy catchphrase, "metal-infused punk" would work, kind of – Old Lines, a Baltimore band they're performing with for some of their upcoming tour, sounds like the opposite: "punk-infused metal."  (Get it?  Get it??)  Locals Bad Decisions and Empty Vessels are on the Danbury bill as well, possibly with more to be announced; not a show for the Symphony X fans, but if you like your music raw and driving and fucking loud, be at the Heirloom on December 6th.
Cop Problem Tour Dates
11/01/2013 Charm City Art Space – Baltimore, MD @ Earth First! Benefit
11/02/2013 The Murder Room – Pittsburgh, PA w/ Complete Failure, Unstitched, Meth Quarry
11/03/2013 Now That's Class – Cleveland, OH w/ Grin And Bear It, Youth Forgotten
11/04/2013 Bremen Cafe – Milwaukee, WI W/ No Brainer
11/05/2013 The Sound Cellar – Chesterton, IN
11/06/2013 The Owl Farm – Nashville, TN W/ Old Lines
11/07/2013 AL's Sidecar – Lexington, KY w/ Old Lines
11/08/2013 The Poison Lawn – Knoxville, TN
11/09/2013 Cafe Bourbon St. – Columbus, OH w/ Old Lines, Wetbrain, Bastards
12/06/2013 Heirloom Arts Theatre – Danbury, CT w/ Old Lines, Bad Decisions, Empty Vessels
12/07/2013 The Acheron – Brooklyn, NY w/ Old Lines
Also check out Bora Chung Photography, Useless Rebel Imaging, Battle Stag Records, and Josh's blog Blow the Scene… And get your ass off the couch!