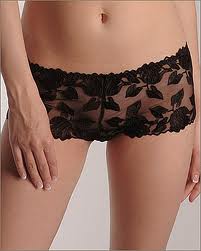 I wore my pretty underwear
tonight, slipped them on
right after my shower,
hair still wet and dripping
you know I hate blow drying.
You'll like them, I promise,
lacy and black, in the front,
behind a soft black mesh cups
these curvy cheeks you
love to put your hands on.
Yeah, I put these on tonight
I thought there might be the
possibility that you would call
It's a new addition,
Cute and seductive
Waiting for your eyes
To glare, for you
To pull me onto your body
(Kicking me into bed)
This piece is comfortable, but sexy
Taunting and mysterious
They ache with hopes to feel your
Fingers tug and trace
When we were last together
I couldn't have you inside.
Tonight I go out, in my new
Garb, wanting you to see.
I close my eyes and imagine
your hands, warm on my curves
grasping with feverish arousal
you slide the sheath off my thighs,
gliding past my toes.
My chest now constricted
I take a deep breath,
Opening my eyes…
You're not there.
A daydream's smile runs across
My face and I look around
sipping my drink. I won't see you—
not on this night. I'm just
sitting with my pretty underwear
living out my Friday night
thinking of you, me
and our new sexy underwear.