Tired of waiting for the next Game of Thrones book to come out?  Then take the rape and torture down a couple notches with The Kingkiller Chronicle series by Patrick Rothfuss.  This yet-to-be-finished fantasy trilogy now consists of The Name of the Wind (2007) and The Wise Man's Fear (2011), with the final installment still in the works.  (Then you can wait for that one, too.)
These books tell the story of a wizard, musician, and all-around badass named Kvothe, who for reasons not yet disclosed has chosen to take a life of anonymity as a rural innkeeper.  Calling himself Cote to the townsfolk, he is discovered by a scribe named Chronicler and decides to reveal to Chronicler all of his past adventures.  This premise sets up an intricate narration style which alternates between Kvothe relaying his history in the first person, then "Cote," Chronicler, and a mysterious inn worker named Bast  all interacting in the story's present time.  Various characters also weave in fables, folktales, songs, and poems throughout, giving readers a glimpse into the cultures of groups Kvothe comes across in his travels.
The Onion A.V. Club said that Rothfuss "combines the […] stories-within-stories structure of The Arabian Nights with the academic setting of the Harry Potter series," and that's an apt description.  Especially in Name of the Wind, Kvothe spends much of his time at the University learning all kinds of arcane arts.  In fact, I felt like he spent a little too much time there.  Every semester was the same thing: trying to raise his tuition money, chasing around the same girl, wondering why his professors didn't like him, wishing he had more shirts…  I asked my husband, who had recommended the series, why Kvothe wasn't out killing trollocs or hunting white walkers.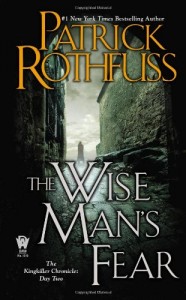 But the action starts to pick up in The Wise Man's Fear.  Kvothe thinks he's just taking a semester off and ends up a journey that tests both his physical and magical skills.  He also ends up a step closer to avenging a dearly held injustice from his past.  It has to be Rothfuss's intent, but Kvothe can be a grating character — he's arrogant and quick to speak, and often overestimates his own powers.  There are several incidents in The Wise Man's Fear where he learns the hard way that he isn't the greatest wizard/musician/badass in all the land.
Right now I'm on chapter 125 out of 152 in The Wise Man's Fear, and I know I'll be upset when I finish it and there's no third book to read immediately.  How does Kvothe become Cote?  What's the real story with Bast and Kvothe's hard-to-get love interest Denna?  And most of all, in a series called The Kingkiller Chronicles, when and why does Kvothe kill a king??
Hopefully I won't have to wait too long to find out; the third installment, tentatively titled The Doors of Stone, is expected to be released in 2016.  Until then, my fellow fantasy fans, check out the first two books and give me some reading suggestions in the meantime!
You can find author Patrick Rothfuss on Facebook and the web.  And for more from Alternative Control, find us on Facebook or follow on Twitter/Instagram at @AltCtrlCT!