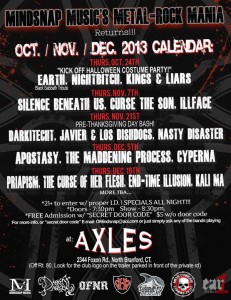 Two years ago, Alternative Control described Mindsnap Music's Metal-Rock Mania as "fun, free, and flowing with cheap beer," a relaxed bi-weekly event that welcomed bands from many genres.  But shortly after we wrote that article, the bar that hosted the event closed down and the all the metal-mania was put on hold…
Until now.  Christian Lawrence (a.k.a Opus) is bringing it back – this time to Axles, a private club in North Branford.  The Mindsnap nights will now be held on Thursdays instead of Wednesdays, but local metal fans can expect the same cheap drinks and good times.  (And of course, the club will be open to the public for Mindsnap nights.)
"I'm hoping it's gonna come back with a fury," said Opus.
He's optimistic that the new night and location will go over well.
"Axles is like a legal speakeasy," he said.  "The people there are great.  […] And I think I can look to my local guys to support something that's theirs.  I mean, I make minimal money from these nights once I pay the bands and the sound guy… It's more about having a regular thing and a network…"
Well, it worked the first time – and the kickoff party on 10/24 is looking like a great lineup.  Nightbitch unfortunately won't be able to play, but Treebeard is replacing them on the bill, joined by Earth (Opus' Black Sabbath tribute) and Kings and Liars.
Plus, there will be specials throughout the night and free admission if you wear a costume or if you know the "secret" door code.  How can you get this code??  Ask a member of one of the bands that's playing, email Opus, or email Alternative Control.
See you there – "we" will be dressed up as a school librarian!
Upcoming Shows for Mindsnap Music's Metal-Rock Mania
10/24: Earth, Treebeard, and Kings and Liars
11/7: Silence Beneath Us, Curse the Son, and Illface
11/21: Darkitecht, Javier and Los Dishdogs, and Nasty Disaster
12/5: Apostasy, The Maddening Process, and Cyperna
12/19: Priapism, The Curse of Her Flesh, End-Time Illusion, and Kali Ma
Axles is located at 2344 Foxon Road, North Branford, CT.
21+ only with proper ID
Free admission with door code, $5 without — code changes monthly.
Doors open at 7:30, shows start at 8:30.
Sponsors include Mindsnap Music, Dark Angel, OFNR, Shark Designs, Hatewear Inc., Metal Cyndicate TV, and Ear One Productions.