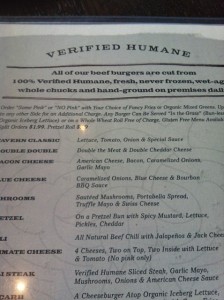 Every now and then, I read a depressing article about sows in gestation crates and decide, again, to stop eating industrial meat.  My most recent real attempt was in 2011 and lasted about six months – but I started a new round this weekend and have done quite well, three pieces of salami notwithstanding.
One of the problems I ran into two years ago was that it was difficult to find humanely raised meat.   Labels at the supermarket can be pacifying, and as for restaurants… Forget it.  The only place I knew to get meat that actually came from a local farm was at a farmers market that no longer exists.  But since then, Fairfield County's interest in socially conscious eating has grown to the point where a person like myself, a middle income city dweller, can buy farm-fresh sausages a minute from the highway or go to the mall and have a cheeseburger that's certified humane.
Plan B is one place in Stamford that's socially conscious and won't break the bank.  $10 bourbon flights?  Can't go wrong.  I recommend the jalapeno poppers as an appetizer; these aren't the typical battered and deep fried ones.  They're more like a loaded potato skin except instead of the potato skin… There's a pepper stuffed with cheese and topped with bacon bits and a drizzle of cilantro lime cream sauce.  As far as burgers, they have a huge and varied selection – there's something for everybody. On my most recent visit, I tried the Baja; the chipotle sauce was too hot for my taste, but the burger itself was delicious.  Definitely order "some pink."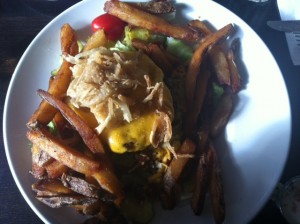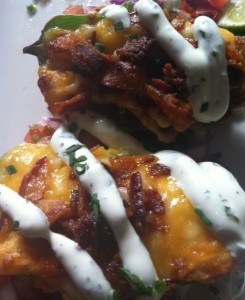 Station Eats is another Stamford burger joint that sells grass-fed, local beef.  (They also have a location in downtown New Canaan.)  It's not as much of a "night-out" place as Plan B, but they do serve beer and adult milkshakes.  You get to pick your own toppings, like you're at Subway except that the food actually tastes good – I go for sautéed mushrooms, blue cheese, and Station Sauce.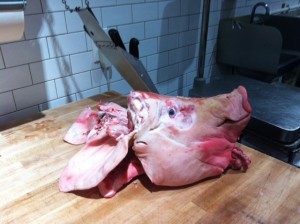 But if you don't want to eat out, stop by Saugatuck Craft Butchery on your way home from work.  The Westport butcher shop carries local beef, pork, chicken, lamb, and eggs, plus lots of kitchen goodies.  The meat is a little more expensive than what you would get at Shop-Rite, but as butcher Sam Garwin put it, "There are a lot of other ways we pay (for industrial meat ) – health care costs, environmental effects… It sounds weird for a butcher to say, but we would rather see customers less often and have them love what they get.  Once you eat our meat, you can't go back." The sausage, ground beef, stew cuts, and braising cuts are priced well within reason, and the butchers are always happy to give preparation suggestions.  (Plus, they let me take pictures of a pig head!!!  Mr. Control and I are headed to Porktoberfest on Sunday, stay tuned for mouth-watering updates…)
So, no excuses this time around — er, less excuses.  I'm still going to eat my grandma's Thanksgiving bird and the meat that's in my freezer, but now I have places to get food when I get sick of Tofurkey.
Plan B is located at 230 Tresser Blvd. in Stamford.  Hours: Monday-Thursday 11:30am-1 am, Friday-Saturday 11:30 am – 2:00 am, Sunday 11:30 am – 1:00 am.
Station Eats is located at 60 Atlantic Street in Stamford.   Hours: Monday – Saturday 11:30 am – 10:00 pm.
Saugatuck Craft Butchery is located at 580 Riverside Ave. in Westport.  Hours: Tuesday-Friday 11:00 am – 7:00 pm, Saturday 10:00 am – 7:00 pm, Sunday 10:00 am – 5:00 pm.