It's not every day you get to tour the world with your favorite band…unless you're Jeff Golden.  Jeff, our very own Connecticut metal scene veteran, went from Crowbar super fan to their bass player in 2013.  Crowbar, founded by Kirk Windstein in 1989 in New Orleans, is known for its heavy, doom, sludge riffs mixed with hardcore punk.  With ten studio albums under their belt, Crowbar are considered the Kings of Sludge and an influential force in the metal genre.  Alternative Control had the opportunity to ask Jeff how his joining the band came about, what life is like on the road and more.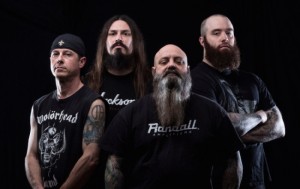 Let's start at the beginning.  What album turned you on to metal? 
I was always interested in music but I started getting into the heavier stuff at about 4th grade — heard Guns N' Roses, then went to Metallica, then eventually moved up to White Zombie and Pantera.
What band/s were you in while in Connecticut?
I was in a local band called Guerra for about 3 years, then about a year after that I was traveling back and forth from New Haven to Brooklyn to play bass in a band called My Uncle The Wolf, which led to my first tour; we were direct support for Ministry in the summer of 2008 in Europe.
My husband remembers when you drove around town with Crowbar bumper stickers on your car.  When did you discover your love of Crowbar and did you ever in your wildest dreams believe that you would one day be in the band? 
Haha yea, the ol' Honda Civic. I first heard of Crowbar from the Pantera videos, I saw Phil always wearing the shirts, I was on vacation in Florida and was looking through the metal CD's at the music store and found some Crowbar stuff. I bought Crowbar's, Time Heals Nothing, I was about 16 years old at the time I think.
The funny thing is that I always had a strong feeling that I would end up in New Orleans, playing bass for Crowbar. I used to tell some friends (over ten years ago) that one day I would be in Crowbar and it looks like that was true!
How did you get the opportunity to audition for Crowbar and what was that experience like?
One morning I checked Facebook and saw that Pat had quit the band and they were looking for a new bassist. So I sent in videos of myself playing Crowbar songs and from live performances of other bands I toured with.
Were you nervous to play with a band you admired so much?
I actually wasn't nervous when it came time to try out, Kirk and Robin had called me a few times before I drove to New Orleans for the try out.  I actually ended up at the Windstein's house for dinner the night before  the try out and we hung out and watched football. The actual try out felt like playing some music with some friends.
When did you move to Louisiana and how is the metal scene different there compared to Connecticut?
I moved to Louisiana basically when I tried out, it was the last week of September of 2013 brought about a week's worth of clothes and ended up staying a few months then went back home to Florida for Christmas and packed up my car and moved.
The local scene is pretty similar everywhere, it all depends on the fans to get out there and support the scene.
What are the most exciting and most difficult things you had to adjust to while on tour?
I love touring, it's all exciting to me from the shows to checking out new places and hanging out with friends that I met on the road along the way. Honestly for me, I adjusted right away on the first tour I did back in 2008.  Touring is a huge part of my life and I feel fortunate to be doing it.

What is your favorite place to play and where would you like to play one day?
That's a tough question, I really enjoy playing  everywhere, in the states.  I would say my favorite place to play would be a tie between the New Orleans shows, and the going back to New England and New York. We just played the Webster Theater in Hartford last December, that was fun to be able to go back to where it all started for me.  So far I've been able to play in over 20 countries or so, England is fun to play as well as Germany and basically the rest of Europe, We recently toured in eastern Europe and the crowds were insane!  Moscow was another one that was awesome to experience.
The places I would like to play in the future would be Australia, Japan and South America.
What is Crowbar's writing and recording process?
For the last record, Kirk and Matt had some of the riffs already arranged but some of the album was written, arranged and recorded on the spot in the studio.
What equipment do you use?
I'm endorsed with Gallien Krueger bass amps . using the 1001rb for a head, and I'm endorsed by Jackson for guitars.  I use the Chris Beattie (Hatebreed) signature model.  Best bass I have played so far.
Where was the "Symmetry in White" video filmed?
The outside parts of the video was filmed in City Park in New Orleans and the house is a friend of a friends in the Treme area of New Orleans, just outside the French Quarter.
What other bands have you had the opportunity to play with? 
I have filled in on tours for Thy Will Be Done, Goatwhore, and Six Feet Under. With SFU I have done everything with them from playing bass to backline tech, to tour managing and merch, they are another fun band to work with, Chris is one of  my good friends. I tried out for Soulfly back in 2010 and was able to play sound checks with the band.  Max and Gloria are great people as well.  I have also worked for Dying Fetus as a driver on a tour with Hatebreed back in 2013.
What bands would you like to jam with?
That's another tough question — Crowbar has always been on the top of that list!  Type O Negative would have been awesome to play with. Ministry would be another, as well as my friends in 100 Demons back home in Connecticut.
What do you do in your spare time when not on the road?
I travel as much as I can. Usually it's going to England, Texas, Charleston, and Florida.  Aside from traveling I like to fish . I also do freelance graphic design for a lot of local bands throughout the US and Europe. Gotta put the ol' college degree to use sometimes haha.
Jeff is living the dream a lot of us wish we had the chance to experience.  Check out Crowbar on their upcoming "Summer of Doom" tour! 
Dates in the Connecticut area:
Friday, June 26 – Palladium – Worcester, MA
Monday, June 29 – Saint Vitus – Brooklyn, NY