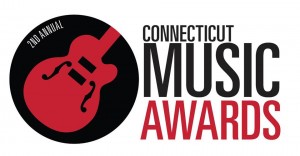 By Lisa Sanchez Gonzalez of Local Band Review
Photos by LSG except where otherwise noted.
I bet you think sleepy Connecticut doesn't know jack about metal music.  But we do; and we've got it here, in abundance.  We've even got an awards show to crown the best of the best!  The 2nd annual Connecticut Music Awards will roar into the Bushnell in Hartford to honor a "Best of Metal" band in a few days from now.  There will be 19 awards given out in multiple genres that range from Country to Indie to Jazz and, of course, Metal — and the 5 nominees in the metal category are some of the best fucking rockers around.  All have made their respective marks on the CT music scene…You've got one with a metal goddess front-woman, a drum/bass duo who will kick your ass, another that's been enjoying national success, a trio of "suaves," and finally one that boasts some of the bawdiest lyrics in metal (AND Viking hats and kilts!).  They represent towns all across the state too – New London, New Haven, Glastonbury, etc.  I've seen and photographed every one of these bands, and they each have their own special way of reaching (and destroying!) an audience.
Who knew there was so much metal goodness in CT?  Alternative Control knows.  Let's meet the nominees!
Bedroom Rehab Corporation – New London
Adam Wujtewicz (bass/vox)
Meghan Killimade (drums)
Founded in 2008 by Adam and Meghan, they are currently enjoying the success of their first full length album, "Red Over Red."  It is simply amazing the sound this due puts out in a live show.  Thunderous is all I can tell you.
Dead by Wednesday – New Haven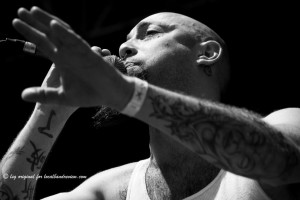 Latest Release: The Last Parade
Joseph Lee Morbidelli – Vox / Screams
Opus – Drums
Mike Modeste – Bass
Ross Ragusa – Guitar
This band has been everywhere representing CT hard.  Formed in 2005, they have played to crowds of thousands as well as small clubs all over the country.  Their video, "Pawns" which was produced by Grammy-nominated producer David Brodsky, went into rotation on MTV2's Headbanger's Ball, Music Choice and Havok TV on demand, Liquid Metal, Rock Band, and UFC.  They've also played with the likes of Straight line stitch, Thy Will be Done, Jasta, and have been part of the lineups for multiple major rock/metal festivals.Look for new music from them soon!
Nasty Disaster – East Haven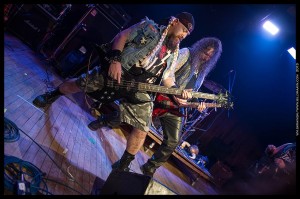 Latest release: Full studio record coming soon!
Herman VonRohl: Lead Vocals
Ian McRok: Lead Guitar/Vocals
Ron Zombie: Guitar/Bass
Viking Rock: Bass/Guitar
Dick Mcplenty; Bass
Rikki Stixxx: Drums/Bass
Sir Adrian Harris: Bass/Guitar
Death Stick: Drums
This is one crazy assed band formed in 2009.  Metal is a lot of things, but this band puts the "fun",,,and dirty, dirty, dirty…into metal!  I caught them about a year or so ago.  I honestly wasn't sure what to think at first.  Then they tore up the place with clever and incredibly funny lyrics and blistering music…all dressed in wigs, kilts, and Viking horns!  Outrageous!
Nightbitch — New Haven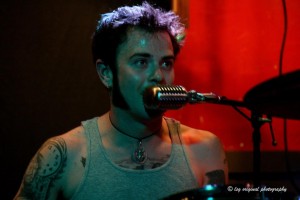 Latest release: Chainmaker
Chris Taylor – drums / vocals
Mark Eles – bass
Ryan Adams – guitar
Formed in 2009, they have been making sweet metal music and have played with bands like Pentagram, Black Pyramid, Earthride and Midnight, DiamondHead, Royal Thunder, and they've played the Dublin Doomday Fest in Ireland.  Always a kickass show from these suave and "sensual" metal boys!  😉
Vengeance – Glastonbury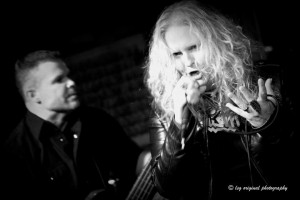 Duncan MacIntyre on guitar
Debbie Seymour on vocals
Kevin Schock on drums
Kevin Schock on bass
What can I say about Vengeance?  I can never get enough of this band.  Front-woman Debbie Seymour, can sing metal like no other woman I know in CT.  And the gents that back her up match her badassery note for scorching lyric.  Formed in 2005, they've played with a lengthy list of metal heavy-hitters like WHITESNAKE, JUDAS PRIEST, QUIET RIOT, ANTHRAX, TESTAMENT, ALTER BRIDGE, BLUE OYSTER CULT, SEVENDUST, DROWNING POOL, HALESTORM, VINCE POP EVIL, The CULT, and many more!  Look for a new full studio release in the next few months called Den of Demons!
No matter who wins on September 17, CT metal will be well represented.  Why don't you get your asses out on a Tuesday night and rock with us at the CT Music Awards!  You can purchase tickets on line at The Bushnell box office!  Oh, and make it to the After party happening at Arch Street in Hartford directly after the ceremony!
Get them here —> http://purchase.tickets.com/buy/TicketPurchase?&pid=7551298
As always, Occupy a Venue!
Peace and \m/,
lsg