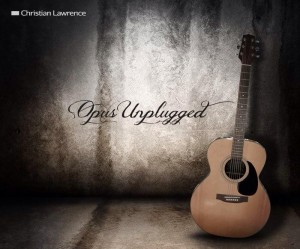 When Christian Lawrence, a.k.a. Opus, asked me to review his new solo album Opus Unplugged, I automatically said yes – because that's what Alternative Control does when anyone asks us to review their album/tuba quartet/nude performance art.  But then I got worried.  Here's this dude who makes a lot of things happen in "the scene," who's very vocal, and who I have a good rapport with.  He's been playing drums and booking shows for twenty years, and now he makes an acoustic guitar album?  What if it sucks?  Do I write what I really think or do I throw him a softball?
Luckily for my journalistic integrity, Opus can actually sing.  The eleven-track album of ballads and mid-tempo numbers shows a side of this guy that hides behind the Scene Impresario persona.  While the lyrics sometimes venture into the cliché, other times the songs are intensely personal and poignant.
My favorite song is "Maybe (Battleship)," where Opus – being titled Opus Unplugged, I'm presuming that the album is heavily based on his own life – wishes that his girlfriend would come back to him and talks about how he wants to "play Battleship/one more time."  That's the kind of specific but universal idea that really speaks to listeners; everyone has that cheesy thing they do with their significant other (for Mike and I, it's playing Scrabble), and "Maybe" captures that slice of life perfectly.  This one could be on a Monster Ballads compilation right beside "Every Rose Has Its Thorn."
Another strong track is the single "Good Things."  With a descending minor chord progression and Santana-esque guitar fills, it reminded me a little of "Maria Maria."  This is another very personal one, bordering on voyeuristic; the opening lyrics gave me the immediate mental image of a guy in his underwear missing his girlfriend.  It was like creeping outside Opus's bedroom window!  Looks like I was onto something though, because how does the infamous banned-then-unbanned video start off?  Opus in his underwear, missing his girlfriend.  (And I've woken up with "Good Things"  in my head for the past two days, which is kind of weirding me out!)
Jeffrey Vaccino's tasteful guitar work adds color to many of the tracks, as do his and Lara Morton's backing vocals.  While Opus does get a little help from his friends on the album, he passes on the good karma with its proceeds – half will go to the Ronald McDonald House in New Haven, in honor of  his friend Lisa Richitelli's continuing fight against cancer.  Opus Unplugged is currently available at Exile on Main Street in Branford and can be pre-ordered through bandcamp. (Plus, "Good Things" and the cover "Can't You See" are available for free download.)  Fans of Aaron Lewis, Incubus, and The Marshall Tucker Band (*cough*) should check this album out!
Opus's Upcoming Acoustic Shows
May 6 w/ Sevendust @ the Webster Theater in Hartford
May 8 w/ Graven Image and more at Axles in North Branford – details on Facebook.
If you want to see Opus behind the drums, also check out Dead By Wednesday and Alcoholica!