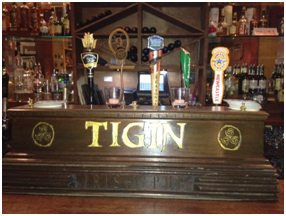 Stamford is the city that works. And we all know what happens after work – time to unwind! Stamford offers many ways to decompress in the evening hours, and most of them will feed you too. How convenient! The Bar/Restaurant has always been a favorite of mine; those from my childhood bring back warm nostalgia of good food, family, and getting in trouble. Little did I know how much more trouble the loud people in the other room were getting into, and that they were wearing the shoes I would one day fill.
Being such a frequenter and having such a strong opinion, I figured I'd share some of my thoughts and experiences at these tiny oasises (oasi?) I find between the workplace and my couch. I'm easy when it comes to booze, but when it comes to food there is a very narrow window of success, so I hope to expose the best of the best. Like I said, Stamford has a lot to offer, so let's start with just downtown. And now, without further ado, I really enjoyed my last visit to…
Black Bear
I went to Black Bear for lunch one Saturday. It was nice because it was quiet and mostly empty. I've heard rumors I wouldn't like the young, hipster night-time crowd here, so I figured lunch would be the best time to get an accurate reading of the food at least. To start with, every booth has its own TV, which is pretty cool, but not that cool 'cause you can't change the channel. Our waitress was named Genesis (Phil Collins, anyone? Baldwin?), there was the token baby staring at my beard, and it was subtle, but I noticed they had Toasted Lager on tap. Ok, so far so good. Soup of the day: broccoli. Yuck! (That's a speculative opinion completely based on prior belief system, not fact…) Selection is a decent spread, opted for the mac n cheese bites and a modest lunch filet. I was disappointed to see only one steak offered, but then I realized all the pictures on the walls had bears on them and that made me smile.  The steak was cooked just right and covered in crispy fried onions. They were also very accommodating and switched my rice pilaf and vegetable medley for garlic French fries and a salad. It was hands down one of the best meals I've had in Stamford. I have to show you this before and after shot.
Notice how much beer was consumed. I ate it so fast I got the hiccups. The steak was great, but no potato skins? For shame. However you might wanna try…
Bobby V's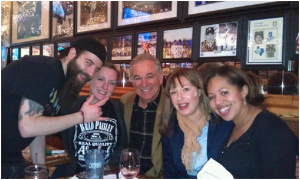 I'm gonna cut right to the chase: Bobby V's has the best potato skins in town. The baseball-themed menu offers 9 innings of food, and if necessary, extra innings. While there, you'll probably get a visit from the friendly Mr. Valentine himself. He's really nice, and may even sit down with you and tell you about his new gig managing the Boston Red Sox. It's a bit noisy, but if you're a sports fan they always have the games on and frequently offer trivia or games of chance where you can win various pieces of sports memorabilia.  I once won a baseball autographed by the (now late) Hall of Famer Bob Feller. This place offers great potato skins and appetizers, nachos, salads, wraps, sandwiches, fajitas, burgers, pizza, pasta, beverages and desserts all in a loud and jock-ish atmosphere. But now it's getting late, and we want something a little more toned down with just as much selection. So we'll hike on over to…
Bradford's
Bradford's is the overgrown dive bar of downtown Stamford. I think it's great; I love dive bars and wish there were more of them because they have such charm. Bradford's offers an equal and arguably larger food selection than Bobby V's with similar quality. One of my favorite items here is the beef bites appetizer: deep-fried steak cubes served with your favorite wing sauce. Never heard of anything like this before, but it's certainly a good idea. The chili also gets an honorable mention. Entrée recommendations are the penne vodka with chicken and the sirloin steak wrap. What also stands out here is the beer selection; they have one of the largest draft offerings of anywhere downtown.
So if we've actually been making this hypothetical journey, we're a little tipsy by now.  But we've still got a hunger, one that's more specific. Luckily we can stumble over to…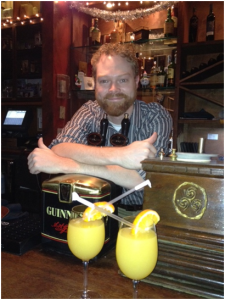 Tigin
Tigin is one of the first bars I ever went to in Stamford, and I've always thought of it as a crowded, complex and hard to maneuver through labyrinth of a bar. There are many small rooms, a fireplace, and a bar that snakes it's way erratically though the whole length. It's pretty cool, actually. Like Bradford's, they have a rather large draft beer selection and great food, including top-notch Irish fare. Many popular dishes feature the Boxty, which is similar to a tortilla but made of potato (genius).  I had the Trinity Steak Boxty wrap and was not disappointed by the taste or portion.  And the Cheese Dip and Wedges appetizer (the wedges being deep fried boxty's cut into triangles) are a must have. The service is great, too.  I was there the day after New Year's and the waiter suggested all the things mentioned above.  They had also over-bought on champagne, so he was peddling 2 for one mimosas —  which was really nice.
Well that's it for now, hope you enjoyed my ramblings. Gotta catch a cab outta downtown to some more great places for Part II — see ya there next month!