Move over 5 Guys and Shake Shack, there's a new homegrown alternative in town: Station Eats, offering juicy hamburgers, delicious veggie burgers, and snappy hot dogs built with healthy and all-natural ingredients. Also on the menu are Sloppy Joes, healthy salads, fries, and even milkshakes. You can see the full menu here. The burgers are made from grass-fed beef, the low-fat chicken hot dogs are made from all natural, cage-free chicken, and only hormone free and anti-biotic free milk from local farms are used in the milkshakes… Hey, even the fries are organic!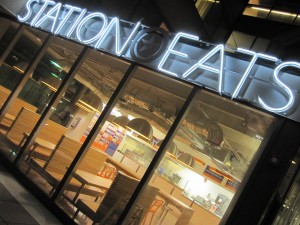 Familiar to many, Station Eats originally opened just over two years ago in downtown New Canaan, Connecticut as The Filling Station Co., and after much success and a name makeover has just opened a new restaurant in downtown Stamford.  Its Landmark Square location makes it easily accessible from many downtown locations including the mall, both movie theaters, and many bars, stores, and public parking areas. You can find it on Atlantic Street directly across from the Palace Theater, a well-known Stamford landmark. It's set slightly back from the road and up a short flight of stairs, but you can't miss their large neon sign (pictured).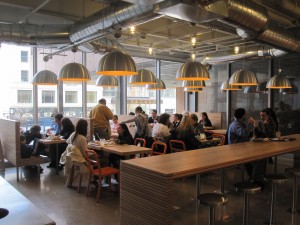 What stands out about Station Eats when compared to similar establishments is the food quality and service.  The burgers are juicy and cooked to perfection, not flattened and dry. The salads are fresh, the hot dogs are crunchy, and the fries are some of the best around. This is due to the quality of the ingredients, the quality of the kitchen equipment, and the quality of the staff themselves. With your food cooked and prepared right in front of you, the care and attention afforded to each meal is obvious. Your food is not pre-cooked or pre-assembled; everything is fresh and prepared to order. Whether you are getting a burger, dog, fries or even a salad, there are many toppings to choose from, and a friendly face is always ready to help you customize your meal. All the employees, from the line cooks all the way up to the owners are some of the nicest people you will ever meet. And the speed of the service cannot be beat; peanuts will not be necessary, Station Eats simply blows the competition out of the water.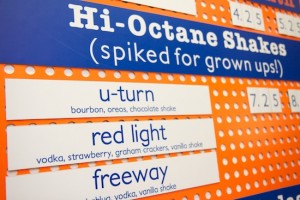 Both locations also offer a selection of adult beverages, including beer, wine, and spiked milkshakes.  This makes Station Eats a very versatile stop; whether it be a quick lunch, family dinner, or as a jumping off point before venturing out downtown late-night, there is something for everybody. The outdoor patio and beer garden is a great spot to line your stomach, pregame and catch up with friends. There is plenty of seating, a great view of downtown, and there are even plans to host live music in the near future. The beer selection includes cans, bottles, and drafts (Stamford only) of such brews as Pabst Blue Ribbon, Arch Amber, Narragansett, and Magic Hat #9. For wine you have your choice of white, red, or sparkling, and the menu on the wall in Stamford offers a few milkshake suggestions (pictured), although I'm sure you could create your own concoction if you ask nicely…
So what are you waiting for? Stop by your nearest Station Eats location today to see what all the buzz is about. Don't be afraid to check out their beautifully designed website; also, follow them on Facebook to keep current on new offers and monthly burger & shake specials. And even check in on FourSquare while you're there, because who doesn't want to be the mayor of Station Eats?