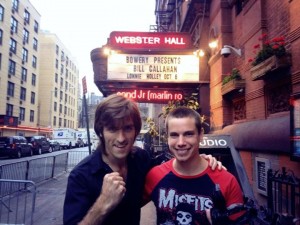 In the journey that is blogging about your ideals, sometimes you come across like-minded travelers.  Alex Obert is one of those — the writer behind Newington, CT-based site Journey of a Frontman, Alex interviews an eclectic mix of musicians, actors, stand up comics, and wrestlers.  Last week, he talked with Alternative Control about his own blogging journey.  Here's what he had to say:
Alternative Control covers a lot of local music and other Connecticut happenings.  What would our readers find in that vein on Journey of a Frontman? 
When I started Journey of a Frontman, I interviewed my friends that are local musicians, whether they were in local bands or cover bands. And I feel that those interviews are easy to get into and engaging because it's not limited to questions about their band that not everyone may know about. I ask questions about their music tastes, their favorite concerts, their favorite venues, life lessons learned from being in a band/getting gigs, and which bands influenced their band's sound. It gives the reader common ground with that local musician which has a good chance of the reader checking out the interviewee's band.
I must also mention that I have a wonderful history with live band karaoke, namely Bandwith Karaoke, and interviewed two of the band members for JOAF. I think that live band karaoke is absolutely genius and I wish more people in Connecticut knew about it. You have a band backing you, playing the instruments, you grab that mic and you sing to an audience. It's the ultimate rockstar fantasy and I'll never forget that feeling I had the first time I sang on stage with them. It was "Blitzkrieg Bop" by The Ramones, one of the most fun songs you can sing.
Your site has interviews with some big names.  How do you snag well-known interviewees like Phil Labonte of All that Remains and Mark McGrath of Sugar Ray?
I will tell you that it is a lot of research online to find the contact information for the band's publicists and managers. Before I knew of the best places to look, it would be hours of Googling any information I could. And that also included reaching out to the musicians on Twitter to ask if I could interview them for JOAF and I would also ask the contact information of their publicist. I was honestly surprised at how many times it worked out where they got back to me on Twitter with the info. I had spent quite a few months trying to reach out to Mark McGrath's publicist for an interview and my request had been rejected by her at the time. Some musicians I will fight tooth and nail to get an interview with and Mark McGrath is one of them. I got on Twitter at 1 AM and told him that I wanted to interview him for the site so I could give him an outlet to talk about Sugar Ray's first album, Lemonade and Brownies, one of my favorite albums and they were much heavier back then. I told him that I wanted to open the door for people to listen to Sugar Ray outside of the band's hits, Fly and Someday. I wanted to discuss and help promote his 2014 Under the Sun tour (with Smash Mouth, Uncle Kracker, and Blues Traveler) as well. The reason that I wanted to interview him so much was because I saw him at Under the Sun 2013 (as well as Summerland 2012) and I absolutely loved his live show. He knows exactly how to engage the crowd, have fun, and he doesn't take himself too seriously. That's what led to the seeds being planted because I wrote a concert review of Under the Sun 2013, tweeted it to him, and not only did he reply saying that it was a great review, he also said that tickets were on him for the next year's Under the Sun show.
I reached out to Zakk Wylde on Twitter for an interview and he replied by telling me that the press contact info is located on the band's information section of their Facebook page. When I discovered that option, I discovered so much more contact information. One of the biggest factors, however, is that I registered (and pay monthly) for IMDBPro, which gives you the press contact information for big names. That's how I get the wild card interviewees such as Adam "Edge" Copeland, Dane Cook, and Chris Pontius. Getting IMDBPro was the best decision I ever made for JOAF.
Before I forget, once I stopped being afraid to call to follow up, it led to better chances of getting interviews. Just like following up about a job interview or trying to get one, persistence is key!
What is your preferred interview style: email, phone, or in person?  And why?
I would have to say that in person is my favorite. By doing an in person interview, you meet them beforehand so it's not sudden like a phone interview. When I do in person interviews, I chat with them for a few minutes to get comfortable and get a sense of their personality. And of course, it's very easy to hear what they're saying, whereas it's difficult to hear on the phone sometimes and it can make typing the interview difficult. One of my fondest in person interview memories was when I interviewed Fozzy's guitarist, Billy Grey, backstage after their set. We still had the adrenaline kicking in, me from watching their killer set, and Billy from rocking out. It's also pretty cool to have Chris Jericho walking around backstage while conducting the interview. (Note: Chris Jericho is the frontman for Fozzy) The list of interviewees that I have interviewed in person include Trash and Vaudeville's Jimmy Webb, Big Jay Oakerson, Reel Big Fish's Aaron Barrett, and ZO2's Joey Cassata. Quite the combination! What I enjoy about e-mail interviews is getting an inbox notification that their reply is in because I excitedly get to read through their answers.
In your About section, you talk about how the blog was originally based on your own dream to be a frontman of a rock band.  Can you talk about your own personal journey a little bit?  And why did you end the journey after that band rejection you mention?
It all started with being so inspired by live band karaoke and being encouraged by others to start a band, that I went out and did it. The night that solidified it was when I went to see Electric Six perform at Middle East in Cambridge, MA. That concert was one of the fondest memories I'll ever cherish. It inspired me to get out there and either join a band or form one. The original format of JOAF was about me following my dream of becoming a frontman, that's where the site's title came from. I had auditioned for two bands prior to the third one and it unfortunately didn't work out. The third one came as a huge disappointment, considering that my good friend was in the band and I really got my hopes up for this to work out. This third rejection took place in May 2013 and I had already been interviewing musicians for JOAF for three months. I had been more interested in doing interviews for the site, rather than tracking my progress with an assortment of posts regarding potential band names, voice lessons, and a composition notebook of lyrics. People that I don't know would be far more likely to check out the site if it's less about me and more about the musicians that they know and love. I wanted to shift my focus to one thing and since my dream of being a frontman wasn't going anywhere, I decided to lay that dream to rest and follow the dream of focusing on my site and being a music journalist. One year later and I feel I made the right decision.
While having a powerful frontperson is extremely important, what else do you think makes a band "tick" on stage and in the practice room?
I feel that the band's chemistry is key. Not only with writing music, but also their banter on stage. I love when band members aren't afraid to be spontaneous on stage in between songs and joke around with each other and with the crowd. I'm not a fan of bands who say nothing more than "Thank you." in between songs all night. On top of that, I love seeing band members interact with their fans after the show, whether it be outside or at the merchandise booth. I also like to see bands not take themselves too seriously. Band members who keep up on social media, such as Facebook and Twitter, is always welcome. Electric Six has some of the best Facebook posts for their shows on the tour. They give facts and history lessons on the towns that they are playing in that night. I also like to see a frontperson include their band members in the live performance. Whether it be introducing them, rocking out with them during a song, or the banter that I mentioned before, it's nice to include those who are playing the instruments at your shows and on your record.
What are some of your favorite local bands?  
As I said before, I am a huge fan of Bandwith Karaoke. I can confidently say that live band karaoke changed my life. I also have to give props to The Framecell, a former band out of New Britain. One of the band members gave me their CD, Metaphors and Abstract Imagery, and it was great music. I love their track, The Psychology Involved. I think that John Ryan is a fantastic musician, he is both the frontman of the cover band, Explicit, and the hard rock band, Down Monday. I have many wonderful (and drunken) memories of the 2011 Explicit shows. Five Second Rule was a great cover band, as well. They played a lot of different covers than what most cover bands play, Lit Up by Buckcherry, Suck My Kiss by Red Hot Chili Peppers, and Bodies by Drowning Pool. I also think more people should keep an eye out for She Walks Without Legs and Scatterhead.
If you could front any band ever, what band would it be and why?
Definitely Nine Inch Nails. Their concerts seem like no other in the world. Or Queens of the Stone Age, seeing them for the first time last year was surreal. Being in the same room as Josh Homme was mindblowing.
What do you do when you're not writing for Journey of a Frontman?
I often enjoy driving aimlessly while listening to music on my iPod. I love to drink coffee and sometimes, I'll go to coffee shops and read. I don't drink, so coffee is my big night out. I like to listen to podcasts. If you haven't listened to Comedy Metal Midgets, you're missing out! When I can, I go over to New York City. However, I try to stay away from Times Square. I head on over to St. Mark's Place to go to Trash and Vaudeville and Abraco. And of course, I love going to concerts.
For more from Alex, find Journey of a Frontman on Facebook and Twitter.